I am reaching out to Dad,s Family.
If you are or know anyone related to Noel Scott from 3 Ballymoney road Craigavad Hollywood. Then 238 Moira Road Lisburn.
His Mum named Lena Mary Scott, remained at 3 Ballymoney road Craigavad Hollywood, where her sons and daughters congregated. Sisters Emily Scott and Mary Scott, Florence Scott,
Brothers Harold Scott, Eric Scott Robert Scott, William Scott, Sidney Scott
and lucky grandchildren visited Granny and were treated to fresh baked cakes weekends and Holidays.
I was sent to wake my Uncle Robert up so many times haha,
Robert is my youngest uncle on dads side.


If you had an Uncle Noel, or if you'r parents or grandparents ever spoke of Noel, who lived outside Lisburn in small town called THE MAZE
And worked in train station in Lisburn, PLEASE contact.
Noel has three sons and one daughter Noel, Robert, Tony and June.

If you had any connection no matter if they are friends of Noel please tell his remaining family. June wants to contact.

My father passed away very peacefully Sunday 17th April 2016 in his presence, blessed release.

Worked 37 years Northern Ireland Railways. Spent all the rest of his time whilst not at work raising his brood of mixture of teens and younger me. Family meant everything to Dad.

If any of the above named are known to you or related to you please, Please contact June by email button bottom of page.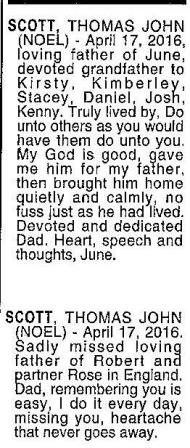 Not forgetting Dads Daughter in law Elizabeth Scott (McIlwane) who with Tony had given Dad his first
Grand daughter then most of the grandchildren mentioned above,
Elane McCambley (Cairns) brought Luke and Leia Cairns to Noel who had John and Matthew with Lynn McConnell then together with Noel
Elaine had Letititia,
My Father held each of the Mothers of his grandchildren in high regard and would want them mentioned.
BELFAST TELEGRAPH 2 Despite that print Dad was NOT Father to Elaine,
she is Noel jrs partner (These prints confuse even me, and I am the only female he was Father to. Just a bit odd if Dad was Father to the female partners of his sons.)
Junes own family tribute to Dad.
April 17th 2016
He truly lived by
"Do unto others as you would have them do unto you."
My God is good., gave me him as my father then brought him home quietly and calmly, no fuss just as he had lived.
D evoted
A nd
D edicated
DAD
In our heart speach and thoughts.
Loving Father to June
Devoted Grandfather to
Kirsty,
Kimberley,
Stacey,
Daniel,
Josh
and Kenny.


Dads Death Notice on Passed Away Site link
Thomas John (Noel) Scott, late of Lisburn,
retired senior porter, N.I. Railways, Lisburn,
passed away peacefully on April 17, in his 83rd. year.
Husband of Elizabeth,
devoted father to Noel (and his partner Elaine), Robert, Tony and June,
and a much loved granda and great-granda.
A Service will take place on Thursday (April 21) at 11 a.m.
Always in our minds, forever in our hearts.


Dads Death Notice on Funeral Times link
The death has occurred of:
THOMAS JOHN (NOEL) SCOTT
April 17, 2016, peacefully, after a short illness, at hospital,
in his 83rd year, late of Moira Road, Lisburn,
retired senior porter N.I. Rail, Lisburn, husband of Elizabeth, devoted father to Noel and his partner Elaine, Robert, Tony and June
and a much-loved Granda and Great Granda.
Always in our minds, forever in our hearts.
And if any other members of my Fathers family feel left out, not just yous, see as yous know my dad has FOUR children and a closer look at this newspaper notice put by Noels partner, you will see he only had two. Honestly, my dad was generous to a fault no need to GRAB BITS of attention!, hope you do same at your own fathers funeral show as much respect.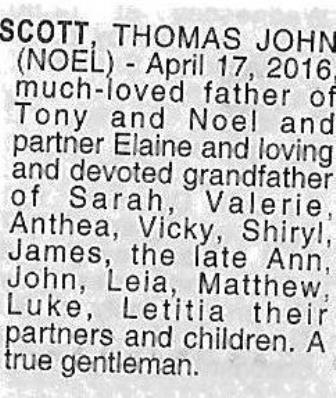 GET ME ON FACEBOOK june.scott.77
Ring or text mobile....07935233803 junecarpediem@yahoo.co.uk or click below to email